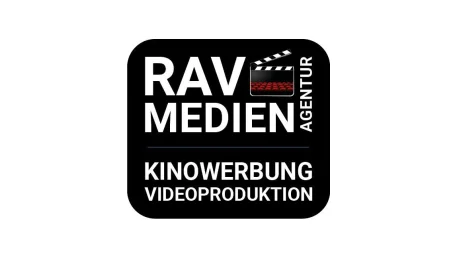 Honoring your company with the HIPE AWARD emphasizes your service.
In addition to meeting our very high quality standards and successfully passing the HIPE AWARD testing and evaluation process, RAV Medienagentur, led by Jörg Hiltmann, is particularly convincing due to the enthusiastic customer testimonials that can be attributed to a unique customer experience.
Leave a lasting impression that arouses emotions, captivates your own target group and does so within 20 seconds? The answer to this is cinema advertising! Whether local everyday heroes or international monster brands: cinema advertising is worthwhile, completely independent of the size of the company. Thanks to the best possible audience appeal, accompanied by a concept designed for the target group, RAV Medienagentur manages not only to satisfy its customers, but to downright inspire them!

This high performance team offers you the following services:

- Cinema advertising
- Trainee Spot
- Film and cinema production
- livestream

Convince yourself of this terrific service quality and book your next inspiring customer experience with one of our HIPE AWARD winners.
HIPE AWARD pertains to the most renowned awards in the service industry and established itself to a well-known quality seal in recent years extending the entire DACH-region. Our network consists of award-winning service providers achieving excellent results on a daily basis on behalf of their customer enthusiasm.

We are convinced: "Customers do not want enthusiasm. Customers want exictement." - HIPE AWARD
RAV Medienagentur
Anschrift
Zogenweiler 107
88263 Horgenzell